Kosi Challenge flood rehabilitation
The 2008 Bihar flood was one of the most disastrous floods in the history of Bihar, an impoverished and densely populated state in India. The Kosi embankment near the Indo-Nepal border broke on 18 August 2008. The river changed course and flooded areas which had not been flooded in many decades. The flood affected over 2.3 million people in the northern part of Bihar.

On 6th September 2008, Khushi Centre for Rehabilitation and research (KCRR) along with Youth For Equality (JNU) team left for Flood affected area with medicines, clothes, and food items. When the team reached there at 12 AM on 7th September, it found that the situation was worst and entire affected population was on verge of epidemic. Team immediately started working with volunteers of Khadi Asaram. Next day, doctors from our team, reached at Baidynathpur camp and more than 300 people were provided healthcare and medicines. Team found that people over there were very weak and affected by malnutrition due to prolonged food deficient caused by flood conditions.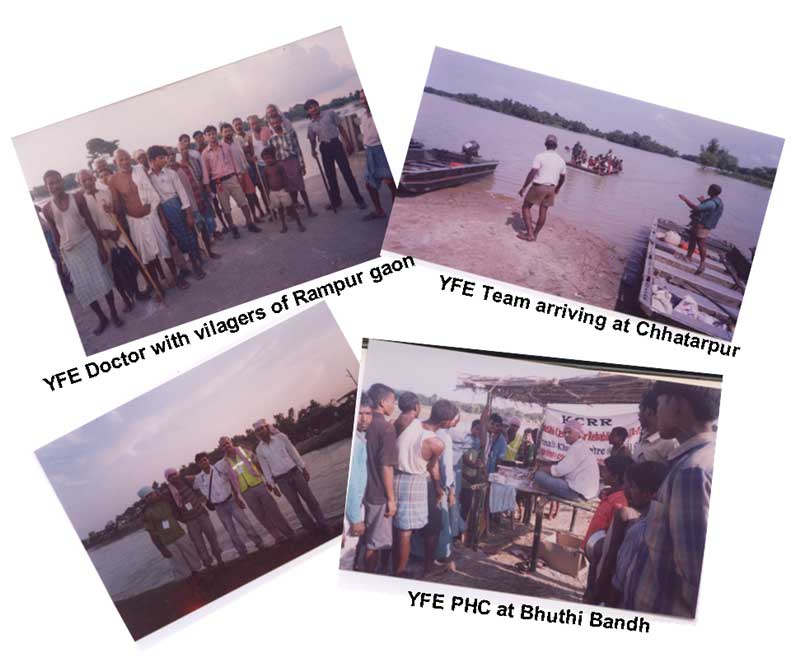 With the help of the volunteers from Delhi University Dept of Social Work we made a PHC by community participation in the Triveniganj area of Supoul District where about 50,000 people were lying on the streets. Started non formal education of kids living in the area and distributed free medicines to the patients, donated by members, different support groups and well wishers of KCRR family.

We found 12 areas which were badly affected in four districts where no or very little support was going as far as medical facilities are concerned. A mobile team used to visit those places and would treat patients and also provided them free medication. We constituted two teams in leadership of Saket Mani Trivedi , Dr. Harsh and Dr. Lokesh. Next day these teams served around 700 people at Mazua Camp and through Mobile unit. Bihar Ekta Parisar provided ambulance to our doctors and Khadi Gram Udyag provided fuel for that ambulance.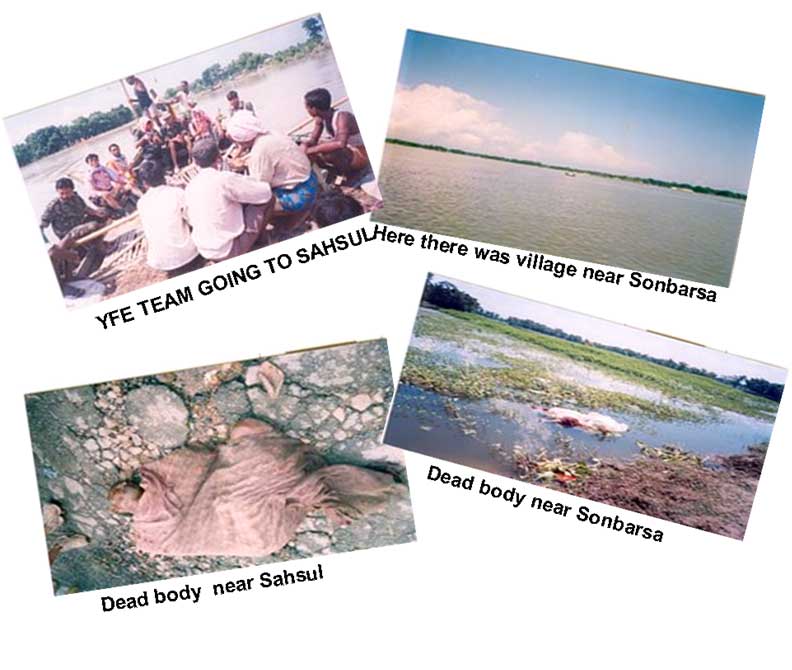 This team visited more than 250 houses and distributed essential kit to all pregnant ladies which include, one torch and three packets of biscuit, two candles, two match boxes, one pair of slippers and one packet of iodized salt. Our team served around 3000 people during next two days in these villages- Motipur Village, Bhutni Bandh, Ratanpur Panchayat, Singeswar, Madepura, Baba Mandir, Dinapati Halt, Rampur Village, and Sabela Camp. One base camp is at Simraha. The team has already attended more than 2000 patients. The camp was working round the clock and was open 24 hours a day.